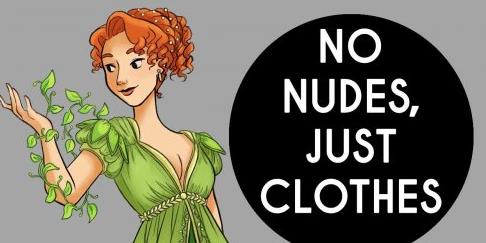 No Nudes, Just Clothes – The Basics of Drawing Historical Costume on iPad Pro
Genre / Category:Drawing & Painting | File Size :419 MB
File Name:No Nudes, Just Clothes: The Basics of Drawing Historical Costume on iPad Pro
Home Page
https://www.skillshare.com/classes/No-Nudes-Just-Clothes-The-Basics-of-Drawing-Historical-Costume-on-iPad-Pro/1388729560

Clothes can say a lot about a person – their personality, their time period, their status, etc. Capture the feel of a fantastic costume from research to concept, on either an iPad Pro or your desktop drawing software. I'll be guiding you through the various steps of drawing clothes, from gathering reference through a final design. I will be focusing on a specific historical era for my example, but feel free to choose any time period you fancy.
This class is perfect for anyone with a passion for art, from beginners to pros looking to hone their skills. This class will take you through various steps of costume design, showcasing your ability to combine creative freedom with historical details.
References
Book: The Fine Art of Fashion Illustration by Julian Robinson & Gracie Calvey
Book: A Pictorial History of Costume by Wolfgang Bruihn and Max Tilke

https://www.youtube.com/channel/UCtkJUNxVlcy-uFSsn32hKKg/featured

– Historical Costume Analysis of TV Shows

https://sellfy.com/p/XuHa/

FIDM Museum and Galleries
What You'll Learn
Concept.

The 1st stage of the class is to start writing down details you have in mind for your character. Think of this as a blue-sky brainstorm to narrow down what you want to draw.

Procreate Tutorial.

This basic tutorial is for anyone who is new to Procreate on the iPad Pro.

Research.

In this stage, we'll explore different resources available for researching the time period of your choice, from online sites to favorite books.

Drawing Form Tips.

We'll review some quick tips on giving clothes form and shape so they feel like they fit your character.

Sketch.

Now that we've got some ideas, references, and a few tips, let's start sketching! We'll start with a quick sketch of your figure (or use one of mine!) , then start putting pencil to paper on those costumes.

Variety.

Using our model, let's play around with alternative ideas for your costumes. We wear different clothes throughout the day, thus, so will our characters. I recommend creating at least 3 different variations before choosing your favorite sketch to further paint.

Final Design.

In our final stage, you'll have chosen your favorite design to further refine with more detail so your ideas can come to life.
Buy Premium From My Links To Get Resumable Support,Max Speed & Support Me
DOWNLOAD FROM HOT4SHARE.COM


DOWNLOAD FROM UPLOADGIG.COM


DOWNLOAD FROM RAPIDGATOR.NET


DOWNLOAD FROM NITROFLARE.COM
Links are Interchangeable – No Password – Single Extraction