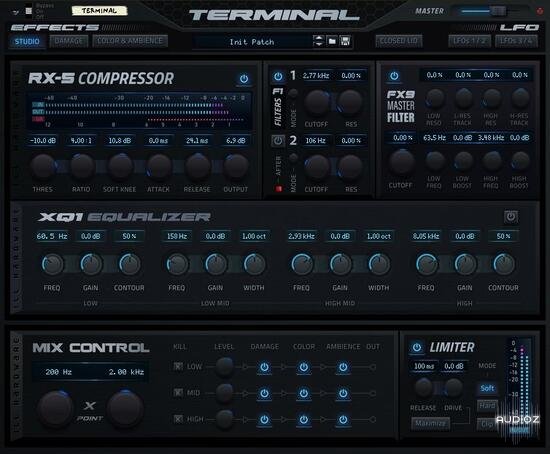 Reason RE BASSGRID Terminal Master Effect v1.0.1 | Team DECiBEL | 26 Dec 2021 | 126.0MB
The Ultimate all-in-one studio-grade Effect Suite for Creative Effects, Sound Shaping, Modulation and Mastering is Here

18 EFFECTS 4 MASTER SECTIONS 38 MODULES IN TOTAL
Terminal is a game-changing multi-effect Reason device with 38 individual effect modules and LFOs unlike any you've worked on before, the LFX!
Features:
– Superior Multi-effect for Creative FX & Mastering
– 18 EFFECTS – 4 MASTER SECTIONS – 38 MODULES TOTAL
– Studio/Damage/Color/Ambience/LFO Master Sections
Free-draw real-time LFOs with instant connections, crystal clear sound, State of the art Filters, berserk Distortions & Saturation, PRO Flanger, Chorus & Phaser, Frequency Shifting, Mastering, EQ-ing, ambiental effects and Powerful Patches, one word, TERMINAL!
FOUR MASTER SECTIONS
STUDIO SECTION
Set of powerful of studio devices make Terminal's Studio Master Section a perfect solution for professional mastering, shaping, mixing, creative processing and more.
Complete with RX-5 Compressor, two F1 Multi-mode Filters, FX9 Master Filter, XQ1 Equalizer, Kill-style Mix control console and a polished Limiter/Maximizer, Terminal's Studio Rack totals in 8 professional tools to comprise a Producer's go-to mastering solution.
Mastering a track, vocals, EQ-ing, adding that secret ingredient to rhythms, creating powerful filter effects or simply polishing your final mix, Studio Master Section will take it to the next level.
DAMAGE SECTION
Packing a punch? Terminal's Damage Master Section packs an aircraft carrier! With Damager Distortion, Saturation and MRDR-1 Multi-band Distortion you get three distinct types of tools to make your sounds scream. Whether you're distorting, enriching your sound with saturation or want to go deep with MRDR-1, the Damage Master Section will help you in the process immensely.
COLOR & AMBIENCE SECTION
This is where things get colorful! Get a fine ambience effect with D7 Delay and R9 Reverb, create a unique sounding effect with PRO Series Flanger, Chorus & Phaser and get weird with FREQ Shifter. Combined with Studio, Damage and LFO Master Sections, this creative arsenal is perfect for exploring the possibilities of creative sound design and processing.
LFO SECTION – THE LFX IS HERE!
Welcome to the age of LFX. The best for last, LFX is a revolutionary LFO module, with total LFO control, with which you can free-draw your own LFO waves in seconds! It's armed with a real-time analyzer which lets you see how deep your mods are, and a 64-step graphic interface. It can instantly target anything in the Terminal (including other LFOs), each LFX module has 2 targets and you get FOUR LFX modules! So you can instantly get creative even if you have no idea what a CV is. The sequencer bars are converted with our smoothing algorithm to a smooth natural wave. Once you try LFX, you will never want to stop using Terminal.
http://www.youtube.com/embed/nlcJjwsZGIs?rel=0&wmode=transparent
http://www.youtube.com/embed/g5j3UFgNj1w?rel=0&wmode=transparent
http://www.youtube.com/embed/aKCz35f8E6M?rel=0&wmode=transparent
home page
https://www.reasonstudios.com/shop/rack-extension/terminal-master-effect/
Buy Premium From My Links To Get Resumable Support,Max Speed & Support Me
DOWNLOAD FROM HOT4SHARE.COM


DOWNLOAD FROM RAPIDGATOR.NET


DOWNLOAD FROM UPLOADGIG.COM


DOWNLOAD FROM NITROFLARE.COM