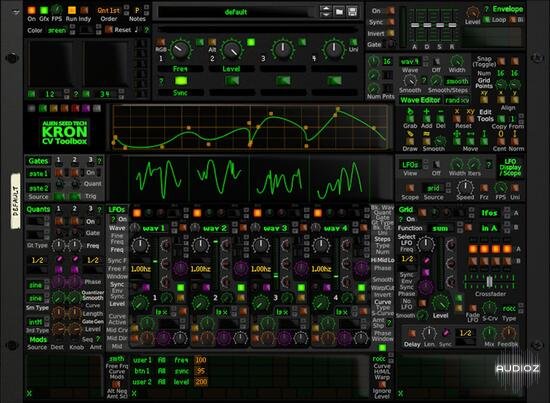 Reason RE Alien Seed Tech KRON v1.3.1 | Team DECiBEL | 26 Dec 2021 | 270.4MB
The KRON CV Toolbox is built around a set of powerful LFOs and Grid combiner. It has custom waveforms, smooth quantizers / gate generators, serious and powerful modding, user controls, an envelope, tons of I/O and options (including custom color and random seeds), lots of lamps and displays, note quantizing / pattern sequencing, and more (like special algorithms under-the-hood to do things no other CV devices in the marketplace can!).

It can generate seriously complex and dynamic CV signals to mod the other devices in your rack, unleashing their potential!
– LFOs, Grid Combiner, Custom Waves, User Controls
– Custom Color, Quantizers/Gate Gens, Envelope
– Mods, Dynamic Displays, Lots of I/O and Options
Features:
– 4 LFOs: basic and custom waveforms, powerful curve sections, high/mid/low warping, random and stepped waveforms with lots of options, a heavy mod section (multiple sources and destinations, smooth curve modding), average-batch-smoothers, gate and quantizer channels, free/sync(x2) frequencies (with env sync toggles to uncouple synced frequencies and fine tuning knobs), etc. Just about any kind of waveform can be made using these and the rest of the components.
– 1 Grid combiner/selector/crossfader: 8 toggle inputs, LFO for selection functions, crossfader controls including s-curving for crossfading and smooth selection functions, CV delay, mod section, etc.
– Custom Waveforms: draw/add/delete/grab points, free-form or snapping to a grid, smooth or stepped, etc. There are 4 main waveforms (2-32 points) plus 3 that combine these and have 2x (X, Y) and 4x (Z) the number of possible points. These can be used as LFO waveforms, note quantizer scales, gate pattern sequences, etc. Version 1.2 adds random generation and modifier keys.
– LFO Display / Oscilloscope: gives a 2d plot of what's going on. There are 3 modes: all 4 LFOs, just 1 LFO, and the oscilloscope.
– Pretty Lights: lots of up/down meters and lamps (the most important ones are on the folded panel too). Many special controls light up when active/non-default, fading into the background when not in use.
– Color Options: 10 colors for the meters, logos, titles, and many of the lamps, plus custom RGB controls for the main displays (now including mods and a few others). Most of this can be set via a color preset GUI that has over 100 presets at the moment (this can grow with user-submitted presets!). There's also a set of controls to put grid overlays on these screens. Version 1.2 adds 2 properties in the meter color menu that control the colors of the new displays.
– User Controls: 4(8) knobs; 4 buttons; 2 pads for 2, 3, or 4-var control; and text labels. A second set of 4 user knobs can be swapped in via a toggle. Back panel outputs for these have sources so they can be rewired.
– Envelope: a simple ADSR envelope with options and mods.
– 2(+1) Quants: square-wave LFOs used to quantize the LFOs/Grid (sample and holding with optional curved function smoothing), generate gates, etc., with a 3rd quant that's a combo of the first 2. They can use the custom waveforms as pattern sequencers. And they can use the LFOs' curve sections for smoothing, along with generating curved gate sequences.
– 2(+1) Gate Channels: wired up to various signals to provide gates for other components (e.g. driven by a gate input, MIDI notes, or a quant channel). The LFOs/Grid/Quants have gate channel knobs that point to these and gate type menus with a bunch of options. There are dedicated gate inputs on the back panel for these channels, plus direct gate inputs for the major components.
– Mod Sections: mod almost anything via anything else, including multiple sources and destination components at once via bank-to-bank modding (e.g. one LFO mod entry can do 1-4 CV Ins modding 1-4 LFOs in parallel, 1-4 LFOs modding each other, etc.). There are also scale mods and back panel direct mods. (On the front panel LFO mods, a total of 36 source->dest wirings can be made, scaled by 4 different sources that can affect combos of the main mods.)
– Curving: the LFOs have curve sections that apply mathematical functions to the phase, along with high/mid/low curving of the output, greatly altering the waveforms (especially when these controls are modded). The Quants can use these same curve sections for smoothing and gate generation. When these are modded on LFOs and Quants using free freqs (or sync freqs that use env sync to uncouple from the song), the phase is adjusted, making the modding happen smoothly, akin to how LFOs with modded free frequencies change smoothly. The Grid can also use s-curving with these functions for crossfading and selection functions.
– Random Seed Options: this will make random LFOs and grid LFOs repeatable with every song playthrough, tying them to the play position. Different frequencies give different results, and changing the tempo won't change the output. Works for sync frequencies and free frequencies that are gate-triggered.
– Note Quantizing and Pattern Sequencing: The 4 LFOs and Grid can use custom waveforms to create note CV using any scale/chord/interval you want (this includes arpeggiating incoming note data). The 2 Quants can use these waveforms to do pattern sequences, both for generating gates and for smooth quantizing the LFOs and Grid.
– Plenty of CV Inputs and Outputs: each main component has 4 outputs, a gate input, and a few direct mods. There are 16 general CV inputs for modding plus 32 custom CV outputs, both with uni/bi and invert toggles.
– A bunch of other options: general controls, specific options for each component, curve constants, different types of random and stepped waveforms, gate types, etc. (The descriptions above are just summaries with a few details, otherwise this list would be way too long.)
– 20 popup Help and Introduction menus explaining practically everything.
– Details in the menus: almost all popup menus list more details / descriptions once they're open.
– ~325 combinator patches and ~250 device patches: 575 total. 140 combi patches and all device patches are by Alien Seed Tech, the rest from beta-testers and users. The combi patches are a mix of instruments and effects, mostly using basic Reason devices (this includes some Reason 10 instruments now).
http://www.youtube.com/embed/0qv0ASRt3fI?rel=0&wmode=transparent
http://www.youtube.com/embed/0LZTSFgux7M?rel=0&wmode=transparent
home page
https://www.reasonstudios.com/shop/rack-extension/kron/
Buy Premium From My Links To Get Resumable Support,Max Speed & Support Me
DOWNLOAD FROM HOT4SHARE.COM


DOWNLOAD FROM RAPIDGATOR.NET


DOWNLOAD FROM UPLOADGIG.COM


DOWNLOAD FROM NITROFLARE.COM