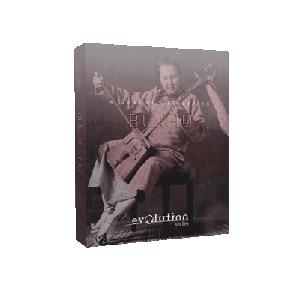 Evolution Series Chronicles Bukhu KONTAKT | 5.89 GB
In collaboration with Mongolian composer and one-of-a-kind talent Bukhu Ganburged, Evolution Series presents a new chapter of inspiring sounds. With state-of-the-art equipment, they recorded the voice and Morin khuur on a world-class stage. The beauty of Buhu's voice combined with morin khuur opens the door to the early 13th century.
Morin khuur- the instrument has two strings: "male", made of 130 hairs from the tail of a racehorse, and "female", to which there are 105 hairs from the tail of a mare – these are symbols of the male and female principles. According to the Mongolian tradition, the hair of the "male" string must necessarily be from the tail of a fast racehorse, so that the animal's agility is transmitted to the instrument. Recently, some performers have preferred nylon strings. The strings are tuned mainly in the fourth, but sometimes in the fifth. In Mongolia, the tuning of the instrument is Fa, B-flat of a small octave (E-flat, B-flat), in Inner Mongolia, the scale of Sol is a small octave, Up to the first octave. The bow is wooden, arched, with a freely suspended bundle of horsehair, but Western designs with a hair tension mechanism are also popular.

Harmonic sound production, without pressing the strings to the neck. The strings are clamped with the outer side of the nails of the index and middle fingers of the left hand and the grown nails of the ring finger and little finger. The thumb serves to support the neck of the instrument and is rarely used to grip the strings. The bow is held in the right hand – the palm holds the bow from below, the thumb is placed on the block, the index and middle fingers clasp the cane, and the ring and little fingers are placed with pillows on the bow's hair from the inside and, if necessary, pull them.
The morin khuur is played while sitting, holding the trapezoidal body between the knees and holding the bar at a certain angle upward. Traditionally it is a male instrument, widely used both for solo performance and for accompaniment. Especially important for accompaniment in the performance of "lingering songs" and epic legends. Not used in monastery music.
Morin Huur was the first to bring Marco Polo to Europe, who received it as a gift in 1275 while visiting Shandu, the "summer capital" of the Yuan dynasty.
О Chronicles Series
Musical storytelling is a key focus of this product line. The Evolution series will take you on a journey to another place or world through movement and texture. Working with world-class musicians on a beautiful stage, they have been able to deliver an exceptional level of realism that is often difficult to achieve with standard sampling techniques. By recording numerous looping and textured performances across the instrument's practical range, you can create emotional and lively passages. The Evolution Series are truly passionate about this series and they know that it will add an extra level of musicality and liveliness to your composition.
Peculiarities
– Modern clean UI
– Movement and textural-based performances
– Multiple sustain and short note motions tempo synced to your DAW
– Multiple textural-based performances
– Instruments' practical range sampled for all techniques
– Performances that have a raw and human quality
– The Perfect Combination of Voice / Horse Fiddle
– Recorded with state-of-the-art equipment at a world-class scoring stage
– All samples at 48khz 24bit
– 6.32 GB Library (Compressed)
https://www.evolutionseries.com/portfolio/chronicles-bukhu/
Buy Premium From My Links To Get Resumable Support,Max Speed & Support Me
DOWNLOAD FROM HOT4SHARE.COM


DOWNLOAD FROM RAPIDGATOR.NET


DOWNLOAD FROM UPLOADGIG.COM


DOWNLOAD FROM NITROFLARE.COM